Gemfields Plc. - Authorised User of the Emerald Paternity Test
Founded in 2005, London-based Gemfields is a leading supplier of responsibly sourced coloured gemstones. Specialising in the mining and marketing of emeralds and rubies, Gemfields prides itself on both innovation in mining and commitment to sustainability. Gemfields' vision is to be the world leader in coloured gemstones, promoting transparency, trust and responsible mining practices. Since August 2017, Gemfields Limited is fully owned by Pallinghurst Resources Limited.
The open-pit Kagem emerald mine is situated in the Copperbelt Province in Zambia. Gemfields acquired a 75% stake in 2008, with 25% owned by the Government of Zambia. The Kagem licence is the largest in the Ndola Rural Emerald Restricted Area (NRERA), covering over 40km2. It produces emerald and beryl, supplying as much as 30% of the world's emeralds.
Serial No. shown on Tracking Confirmation
EPT001180100001 to EPT001180199999

Provenance: Kagem mine, Zambia

Authorised User: Gemfields Plc.

Mining period: 2018

Auditor: Gübelin Gem Lab Ltd.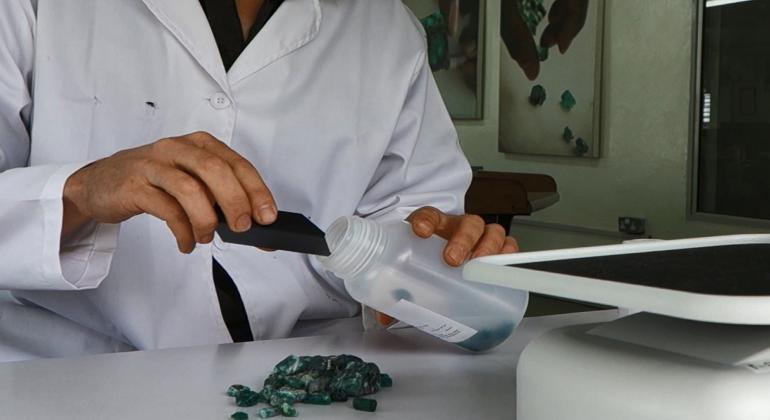 The Emerald Paternity Test
The Emerald Paternity Test is a traceability technology based on nanolabels that are applied on the rough crystals. The nanolabels contain DNA encoded with information specific to the exact provenance of the emerald, such as the mining location, the miner's identity and the mining period. The particles are built to resist the influence of cutting, polishing and repeated treatment. The Emerald Paternity Test is part of the Gübelin Gem Lab's Provenance Proof initiative whose aim is to develop new technologies to increase transparency and traceability within the gemstone industry.
By applying this traceability technology on its gemstones, Gemfields is strengthening its commitment to provide transparency in coloured gemstone mining practices.
Online form
Please use the online form below for your inquiry, filling out all the fields marked with*.