Welcome to the Gübelin Gem Lab
The Gübelin Gem Lab was founded in 1923 as a small gemmological laboratory to examine and determine the authenticity of the stones used in Gübelin's jewellery. This was a way to maintain the trust of its clients and stay true to its ideals. Since then the Gübelin Gem Lab has grown to become one of the most respected institutions of its kind in the world. A completely independent subsidiary of the Gübelin Group, the Gübelin Gem Lab uses the latest science and state-of-the-art equipment to carry out its analyses. On the basis of this it issues its highly respected Gemmological Reports, which are relied upon by famous auction houses, royal families, jewellers, gem traders, and collectors globally who are looking for unbiased, independent and absolutely trustworthy opinions about their gems.
The Gübelin Gem Lab Newsletter

Sign up for our free newsletter to receive the latest news and info directly in your mailbox.
The Gubelin Gem Lab team consists of highly qualified and experienced specialists from seven different countries; between them they speak nine different languages – not forgetting "gemmology", one of the languages they all have in common! Each team member is trained specifically in his or her field of work, such as gemmology, the operation of analytical instruments – even gemstone photography. Every gemmologist has a degree in an Earth Science (Geology, Mineralogy, Crystallography, Geography and so forth) complemented by a degree in Gemmology.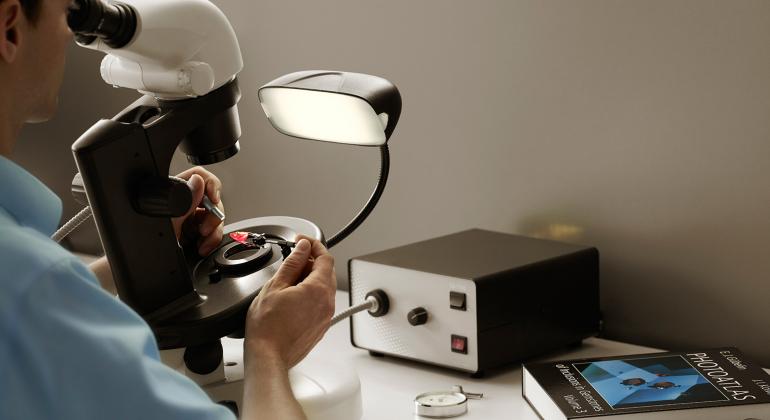 On joining the Gubelin Gem Lab team, our gemmologists complete an intensive two to three years' internal training programme before reaching the level of expertise that enables them to append their signatures to a Gubelin report. We are proud of our expertise and our skills which, complemented with each individual's unique personality, contribute to the strong core of our company.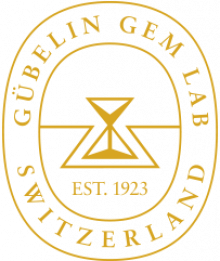 Ever since its establishment almost a century ago, the Gübelin Gem Lab has been pursuing the highest possible quality standards and refrained from making any compromises regarding analytical infrastructure, level of education and staff know-how as well as internal regulations and processes. To warrant and perpetuate these outstanding quality standards, the Gübelin family has provided the Gübelin Gem Lab with its very own label the Gübelin Gem Lab Seal. It stands as a quality hallmark outlining a set of guidelines that must be followed in order for it to be included on a gemmological document. Learn more
Gübelin Gem Lab Ambassadors
Our industry network, consisting of dozens of seasoned professionals from mining, the gemstone trade, jewellery and retail, is a precious asset. These experts keep us and others updated on the activities in the mines and on the markets all over the world. With various backgrounds, different positions and specialised in their respective field, they are united by their love for gemstones. With many of them, we do not only share the same passion, but also the same values and principles, which makes them perfectly positioned to act as Ambassadors for the Gübelin Gem Lab. Recently, we have nominated several such individuals to take on the role of Gübelin Gem Lab Ambassadors. They all have served the industry for many years and decades, and have earned themselves a reputation of competence, honesty and integrity. As Ambassadors, they represent our lab towards the industry and consumers in their respective section of the branch and region. While pursuing their different other businesses, and remaining independent in their activities, they also market our services for our three laboratories in Hong Kong, Switzerland and New York, in return for a commission. Our Ambassadors are entitled to negotiate customised terms for services with lab clients, and will facilitate a smooth cooperation between clients and the Gübelin Gem Lab.
We are excited to introduce to you the following individuals as Gübelin Gem Lab Ambassadors:
Gübelin Gem Lab continues to expand its network of Ambassadors into Mainland China. We are delighted to announce the new additions of four Ambassadors who represent our lab towards consumers in their respective fields.

We warmly welcome these four outstanding professionals and we look forward to a fruitful collaboration:
Albert Zhang

Mr. Zhang is the founder and co-owner CGG Jewelry Appraisal Trading Co Ltd and also currently the Ambassador of Gübelin Academy as well as the Ambassador of House of Garrard, the first British Crown Jewellers, in China. He has devoted himself to promoting luxury jewelry and lifestyles in mainland China.

If you would like to reach out to Albert, please see below his contact details:
Email address: gubelin@cgg.cn
Mobile number: +86 21 5309 8773

Jenny Jing

Ms. Jing is the Executive Publisher and Editor-in-Chief of Bazaar Jewelry magazine. Furthermore, she is a visiting Professor of the Tongji University of Design and Innovation. With a long commitment in the dissemination of fashion and jewelry culture, Ms. Jing is regarded as a dominating influencer in these fields.

Guo Ying

Professor Guo is the Dean of the School of Gemmology, China University of Geosciences in Beijing. He focuses on the research of gemology, mineralogy and traditional Chinese jade culture. He frequently shares his vast knowledge on these fields in interviews conducted by major mass media stations such as CCTV, CNR and BTV.

Fan Bingbing

Ms. Fan requires no further introduction as she is a well renowned and famous actress, model and television producer in China. She has won many prestigious awards such as from the Tokyo International Film Festival, San Sebastian International Film Festival, Golden Horse Film Festival and Awards and the Golden Rooster Awards. Due to her astounding appearances on the red carpet at movie premieres and fashion shows, Ms. Fan is reckoned as a global fashion icon.
Online form
Please use the online form below for your inquiry, filling out all the fields marked with*.
Discover more about gemmology